Energy you can count on.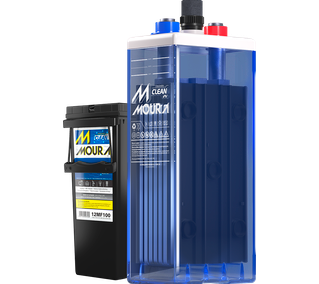 MOURA CLEAN
For the best performance under severe usage conditions.
Superior Performance
---
Better performance under extreme usage conditions, such as high temperatures and severe energy supply conditions.
Low Energy Consumption
---
Removes the need to install a cooling system with air conditioning units.
CLEAN Technology
---
Saves energy and reduces CO₂ emmissions.

Applications
Telecommunications
Energy production, transmission and distribution
UPS/Nobreaks/Stabilisers
Refinery (onshore)
Oil pipelines
Electronic surveillance
Clean range. Leader in solutions at high temperatures.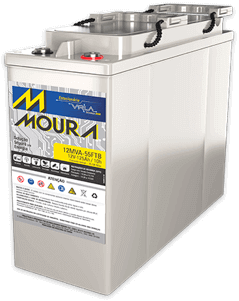 MOURA VRLA
The ideal battery for climatised environments
Increased Battery Life
---
Greater durability when used in environments with a controlled temperature (up to 25°C).
Greater Instant Power
---
Low internal resistance ensures greater charge loads and a high instantaneous voltage.
Easy Handling and Installation
---
The VRLA valve stops the release of corrosive gases and the AGM divider ensures the retention of electrolytes. This provides high resistance to leakage allowing the battery to be laid-down horizontally.
Maintenance free
---
The VRLA batteries are versatile for use in remote locations. Energy guaranteed.

Applications
Central telecommunication exchange
Medical-hospital equipment
shop and supermarket tills
Oil platforms (offshore)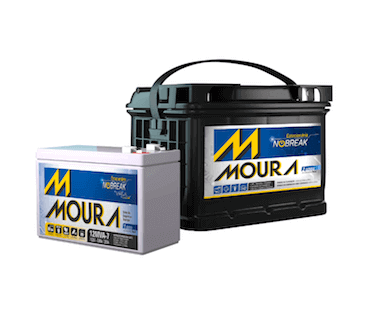 Moura Nobreak
Safe energy solutions.
Produced under rigorous quality control processes, the nobreak range benefits from flooded technology products and VRLA, supporting small and medium size stationary equipment.
Excellent charge acceptance rate
---
Maintenance free
---
High operational reliability.
Applications
UPS/Nobreaks/Stabilisers
Electronic surveillance
Security systems
CCTV
24-hour cashpoints
Shop and supermarket tills
NoBreak Line. The energy of your business can not stop.
ENERGY OF QUALITY IN ANY ENVIRONMENT.
Excellent acceptance of load, operating in cycles of cycles and in partial state of load.
Longer Life
---
Shielding with 3 layers, which ensures the product's durability and reliability
Best Performance
---
Excellent resistance to loading and unloading cycles
Applications
Alternative energy systems (solar, wind, etc.)
Excellent resistance to loading and unloading cycles
Solar Line. You can count on our energy.
How may we help you?
We will contact you as soon as possible